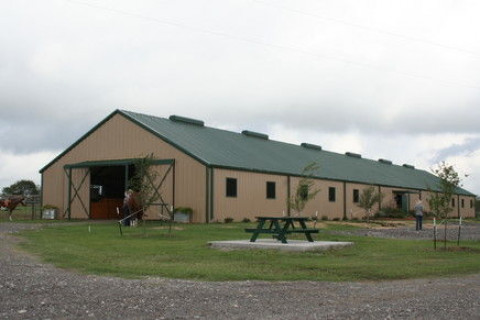 New 100'x100' covered arena attached to our main barn for dry access in bad weather.
**THE BEST WAY TO CONTACT US IS call (CELL)or email us directly () and not thru this shop around lead. It sometimes blocks your contact info.
We're a No Pressure, No drama, Just Have Fun Facility! Mostly Adult Boarders
Safe, Clean, Family Environment!! 3 miles west of I35, 5 minutes from Downtown..Very relaxed atmosphere. We're here to help the first time horse owner through Non-Pro and Pro
Ashlee Stroope available for colt starting, her program turns out good minded, we'll mannered, soft, responsive colts.
10% discount on your first month's board in the Full Care Barn as a Move-In curtesy if you tell us you found us on New Horse.com.
We have a few full care stalls some with outside runs available.Rent yours now so we can do the work for you in cold and wet. No SLOPPING IN THE MUD!! Your horses will be protected in our insulated barns.
Sorry No Self Care, No pasture board. We also Do Not take wind suckers or cribbers
NO STALLIONS FOR BOARDING.
Stallions only taken if in training w Ashlee.
Please call us directly, email or check our website. **
Custom Built, Large Full Care 20 stall barn. 14 x 14 stalls w/runs. Full Care Stalls $655 to $700 a month. We feed Safe Choice and clean coastal or alfalfa hay 2X daily. We feed on a set schedule to keep your horse healthy and happy. Insulated from the cold and heat. Both barns have automatic waterers (from well water so your horse isn't drinking chemical filled city water), rollout feeders, windows.
Covered 100'x100' arena under roof with the main barn. Lighted 125 x 250 roping arena w/ custom mixed sand (never packs, always moist), stock, washrack (hot water), 3 roundpens (1- 60' sand and 1-50' & 1-40' grass). Pasture turnout, individual feed programs for each horse. Free Trailer parking. Free seasonal blanketing. We worm every 2 months.
longterm and short term boarding available and much more.
*Mobile Vet on call and
Farrier service on a set schedule*
Equine Chiropractor
**Ask about our Clinics**
Going on vacation and need to board so you can enjoy your trip, they're safe with us. Traveling with your horse and need a layover spot, please check us out. Horse have an injury that needs more care than you can do, bring them to us and we'll treat them like their our own.
Layovers $25. 00 a night (your feed, our hay).
Short term board call for pricing. We live on the property for 24 hr. availablity and security. Obstacle course. Walker, gated access, security cameras, misters.
All Full Care
Box Stall….$655
Stall w/run…$700
Please phone or email us directly and not though this website "SHOP AROUND" because your contact info will be blocked from our viewing. Thanks
**We're a NO PRESSURE...Just have fun Facility**
**We run a VERY SAFE, clean facility**
Adult Boarders
(c) www.thewindyhillstables.com or
Specialties
10% Discount For Fire
2. Veterinary Available
Affordable Horse Boarding Rates
All Breeds And Disciplines Are Welcome
All Disciplines and Riding Levels Welcome
AQHA
Arena
Barrel Racing
Beginner Lessons On Own Or School Horses.
Blanketing
Boarding
Breaking
Colt Starting
Covered Arena 100'X100' Attached to Barn
Daily Handling Of Horses
Daily Stall Cleaning
English Pleasure
Equine Chiropractics
Full Service Boarding Facility
Geriatric Horse Care
Horse Injury Rehabilitation
Horse Sales Preparation
Horse Summer Day Camp for Kids
Horse Training
Horseback Riding Lessons
Horses for Sale
Individualized Care
Lay-ups
Layovers, Stopovers
Lessons
New Horse Owners Clinics
Open 7 Days a Week
Outdoor Arena
Overnight Stabling
Owner On Premises
Peaceful And Relaxing
Personal Attention Given To Each Horse And Human
Personalized Care
Pole Bending
Police & Active Military
Private Riding Lessons
Quality Care
Riding Clinics
Riding Lessons
Riding Lessons for Adults
Riding Lessons for Children
Round Pen
Stables
Stall Boarding
Trailer Parking Available
Trainer On-site
Training
Wash Rack
Weekly Stays
Western
Western Pleasure
Young Horse Training
Young Riders Welcome