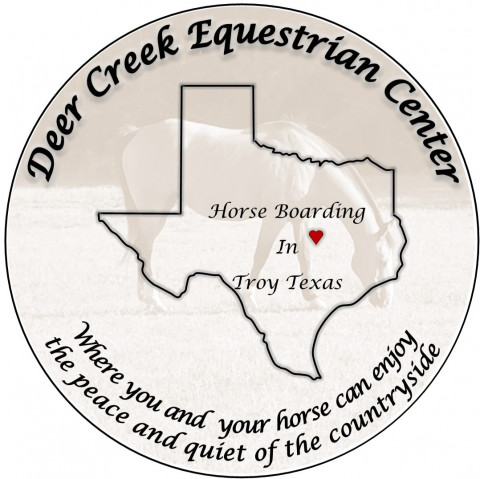 We are a smaller full care facility geared toward quiet enjoyment with your horse, offering personalized care in a relaxed, laid back atmosphere. When You board with us at Deer Creek Equestrian you can also enjoy The Trails at Deer Creek Farms! Over 400 acres of trails on our 477-acre farm. Deer Creek Equestrian Center, where you and your horse can enjoy the peace and quiet of the countryside.
Please email us at
For complete details and more photos, please visit our website http://www.deercreekequestriantx.com
Pony Club, 4H, FFA welcome!
We welcome qualified independent lesson instructors and trainers.
We currently offer full care board at the following levels:
-Pasture Board (with stall access for feeding and inclement weather)
-50 x 100' paddock with pasture turn-out.
-50 x 100' paddock only (without pasture turn-out)
Shed and private tack/storage rooms are in each paddock.
Amenities that come with Board:
*Grain twice a day if needed
*Both square and round bales fed
*Private tack/storage rooms -- keep your tack safe in your own tack room!
*access to Cross Ties for tacking up
*150' x 250' clay riding arena, with jumps available
*80' x 150' multipurpose area
*Pole Bending Poles and Barrels
*20 x 60m Standard Dressage arena
*20 x 40m Introductory Level Dressage arena
*64-foot Round pen
*Trail Riding on our 477-acre farm, including trails in and along Deer Creek
*Well maintained pastures and grazing
*Spring-fed ponds
*Stocks for veterinary use
*Shaded concrete wash rack
*Plenty of trees for shade
*A fenced parking area with designated car, truck, and trailer parking
*Farrier and vet available
*Mare Care available
Specialties
A Multi Discipline Facility That Is Meticulously Maintained
Affordable Horse Boarding Rates
All Breeds And Disciplines Are Welcome
All Disciplines and Riding Levels Welcome
And Lessons Available.
Arena
As Well As Individual Paddocks. Full Car
Beautiful
Beginner Lessons On Own Or School Horses.
Blanketing
Board
Boarding
Broodmare And Foal Care
Contact Us For Details.
Daily Handling Of Horses
Daily Individual Turnouts
Daily Pasture Turn-out
Daily Stall Cleaning
Daily Turn Outs
Dressage
Education
English
Excellent Care
Farrier Services
Full Service Boarding Facility
Full Tack Room
Grass
Grass Fields
Great Care
Group Activities
Horse Boarding
Horse Breeding Program
Horse Injury Rehabilitation
Horse Leases Available
Horse Rescue and Adoption
Horse/Pony Birthday Parties
Horseback Riding Lessons
Horses for Sale
I Personally Care For Each Horse In This Facility.
Individualized Care
Jumping
Lay-ups
Layovers, Stopovers
Leasing
Lessons Available
Natural Horsemanship
Open 7 Days a Week
Outdoor Arena
Overnight Stabling
Owner On Premises
Owners Live On Site! We Know What Our Horses Want 24 Hours A Day
Pasture
Pasture Board
Pastures
Peaceful & Quiet Setting
Peaceful And Relaxing
Personal Attention Given To Each Horse And Human
Personalized Care
Personalized Horse Boarding Options Including: Grooming
Pole Bending
Pony Club
Private Riding Lessons
Private Tack Rooms
Public Guided Trail Rides
Relaxed Environment
Riding Lessons
Riding Lessons for Adults
Riding Lessons for Children
Riding Trails Available
Round Pen
Safety Courses
Schooling Shows
Stallions
Tack Room
Trailer Parking Available
United States
Veterinary Care
Wash Rack
We Live On Site
Weekly Stays
Western
Western Dressage
Western Pleasure
Young Riders Welcome
Youth