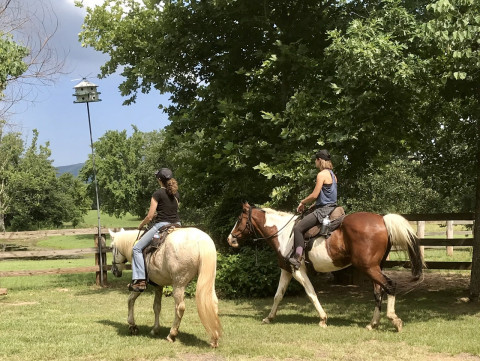 We are located about 15 min from Russellville in the peace and quite. On a beautiful, secluded, serene 54 acre ranch nestled at the base of Mt. Nebo.
We offer long term Pasture board, as well as temporary horse boarding for as little as a day to several weeks while you are away on business or vacation, etc.
We have several large stalls, some with run out or window for temporary boarder use only. Prices vary, there is sure to be something to fit your needs. Paddocks, & pasture. There are also wooded trails on the property, and more in the adjacent park. There is a pond on the property. Plus a shared pond we have use of half of it.
Excellent onsite care from the owner that is trained in natural horsemanship. We put the horse 1st, and do not use any force, fear or intimidation techniques dealing with horses.
Their safety and comfort is of utmost importance.
We offer full or partial care. Your care can be tailored to your specific horses needs. Horses can be checked over daily. 7 days a week.
Contact us now, your horse will be in good hands.
Having problems with your horse, we can help you understand them from your horses point of view, and show you how to work thru them, and improve your relationship with your horse. Have the horse of your dreams.
Testimonial:
When my husband and I came to AR, in June of 2013, I found myself looking for a place to board my horse Little Man. Little Man had a very rough beginnings. Because of that I wanted to make sure that he was in the best place possible for him. I interviewed with five different facilities about their board and train options. Jewel Cousins was my last stop. I left her ranch the day we interviewed with the sense of a perfect fit. It was evident in the way she spoke about her horses and listen to me speak about mine; she truly cared about their well-being both the physically and mentally. You can see that same love and caring in the way that she trains using the natural horsemanship techniques. I only meant for Little Man to be with her for a few months, it is now May of 2016 and we're so sad to be leaving. In those three years we took advantage of Jewels natural horsemanship training anytime we have the opportunity. I am so glad that he and I had the time that we had at Jewel Cousins Ranch. He grew in to an amazingly confident and responsive horse under her gentle care and guidance. I have no doubt that without her he would not be the horse that he is and I would not be the handler that I am.
S. Maddox
Rsvl, AR
~~~~~~~~~~~
I met Jewel Cousins in 2010 through the Parelli Natural Horsemanship member locator website. Jewel was new to the Area and wanted to find friends in the area that followed the Parelli program. Parelli Natural Horsemanship is a program that teaches people how understand horses and how they learn. By understanding how horses learn we can teach our horse to want to do what we ask without force. Jewel has embraced this program completely. She has taken several classes from Parelli instructors around the area and even has traveled to Parelli's main campus in Colorado.
In the summer of 2012 I needed to move two of my horses and I was having no luck getting them to load in the trailer. I asked Jewel to assist me in getting them loaded. Jewel committed to help me on the condition that she was going to do it the right (Parelli) way, with no force no matter how long it took. We could only work on loading the horses once a week, and it took several weeks but in the end both horses loaded into the trailer confidently when asked to and stood calmly. We closed the doors and drove around the field to see how they would react. We opened the doors and both horses were standing calmly looking at us.
I have the occasion to visit Jewel often. I love to watch her with her play with her horses off line. It is wonderful to watch her horses happily and confidently respond to her requests. It is obvious how much Jewel loves her horses and how much her horses love her.
L Bass
London, AR
Specialties
Affordable Horse Boarding Rates
All Breeds And Disciplines Are Welcome
All Disciplines and Riding Levels Welcome
Beautiful
Board
Boarding
Daily Handling Of Horses
Farm Sitting
Grass
Grass Fields
Ground Skills
Horse Training
Horse Transport Available
Individualized Care
Layovers, Stopovers
Lessons
Natural Horseman Ship
Natural Horsemanship
Open 7 Days a Week
Overnight Stabling
Pasture Board
Pastures
Personalized Care
Private Riding Lessons
Retirement With Full Care
Riding Trails Available
Round Pen
Temporary Boarding Available
Trail Riding
Trainer On-site
Wash Rack
Weekly Stays