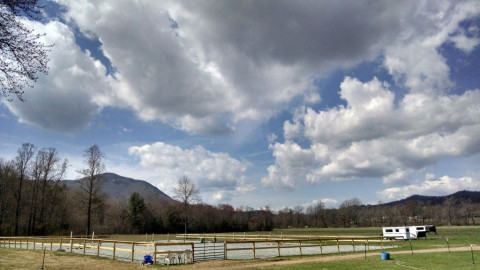 Please send contact info within the body of your inquiry or message us through our website!!!
At Walnut Cove Stables we offer both Full and Pasture board with flexible turn out options and services tailered specifically to your horse!
Competent adult care, manager and staff live on site as well as we have our own on site farrier!
Large, safe pastures with run in sheds.
Two arenas, wooded trails with water crossings and acres of open fields for riding!
Wash rack, trailer parking, and tack room!
Rubber matted stalls, and private paddock stalls with dutch doors available also!
Please send your contact info with your inquiry as it isn't automatically sent!
Specialties
2. Veterinary Available
A Multi Discipline Facility That Is Meticulously Maintained
Affordable Horse Boarding Rates
All Breeds And Disciplines Are Welcome
All Disciplines and Riding Levels Welcome
And Lessons Available.
Arena
As Well As Individual Paddocks. Full Car
Beautiful
Beginner Lessons On Own Or School Horses.
Blanketing
Board
Boarding
Cross Country
Daily Handling Of Horses
Daily Individual Turnouts
Daily Pasture Turn-out
Daily Turn Outs
Dressage
Driving
English
English Pleasure
Excellent Care
Farrier And Barn Manager On Site. Flexible Turnout Options. Fans
Farrier On Call
Farrier Services
Full Service Boarding Facility
Full Service Private Stable With A Family Atmosphere
Full Tack Room
Full Time
Geriatric Horse Care
Grained Twice Daily
Grass
Grass Fields
Great Care
Group Activities
Group Instruction
Heated Water During Winter Months. On Site Trails With Small And
Horse Boarding
Horse Injury Rehabilitation
Horse Leases Available
Horse Rescue and Adoption
Horses for Sale
Horses For Sale And Lease
Hunter Jumper
Hunter Under Saddle
Individualized Care
Jumper
Jumping
Lay-ups
Layovers, Stopovers
Layups
Leasing
Lessons
Natural Horsemanship
Open 7 Days a Week
Outdoor Arena
Overnight Stabling
Owner On Premises
Owners Live On Site! We Know What Our Horses Want 24 Hours A Day
Pasture
Pasture Board
Pastures
Peaceful & Quiet Setting
Peaceful And Relaxing
Personal Attention Given To Each Horse And Human
Personalized Care
Private Riding Lessons
Quality Care
Retirement With Full Care
Riding Clinics
Riding Lessons for Adults
Riding Lessons for Children
Riding Trails Available
Saddleseat
Stables
Stall Boarding
Supporting All Breeds And Riding Styles
Tack Room
Trail Rides
Trail Riding
Trailer Parking Available
Veterinary Care
Wash Rack
Wash Racks
Weekly Stays
Western
Western Pleasure
Young Riders Welcome
Youth