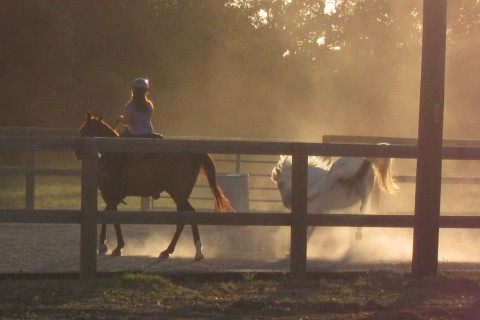 WE HAVE SOLD OUR STABLES- PLEASE CONTACT A NEW STABLES JULIE BERK --- five one two --- seven- three- nine---nine,seven,four,six.... tell her you Got her number from Lynne . I CAN NOT CONTACT YOU BACK. YOU MUST CALL ME OR HER NUMBER LUSTED ABOVE.
#HORSE BOARDING #HORSE LESSONS, #EVENTS AND #BIRTHDAY PARTIES, #HORSE LEASING
We have a great horse property with shade trees and a beautiful barn located near Leander/ Round Rock/Cedar Park across from the Williamson County Park. We have a wonderful facility, where we are all horse lovers and enjoy good company with no drama. We ride and show English, Hunter jumper, western and barrel racing. We have Horse Trainers on the property. We also offer Horse Lessons, Horse leasing, and horse camp.
EQUINE THERAPY CERTIFIED LESSONS AVAILABLE
WE ALSO LEASE HORSES
We have a lighted riding arena with a great sand base (even with a week of rain you can ride in it) automatic lights that come on at night and a 60+ foot round pen. We have a heated/cooled tack room with private tack lockers and a full bathroom/shower in the tack room. In addition, we have WIFI and cable for those times that you need connectivity, TV, microwave and a fridge on site to put your food and drinks in.
We have openings for stall or pasture board on our property. Our standard care includes feedings and lots of UNLIMITED coastal hay rounds in pastures and/or plenty or grazing pastures. There are also plenty of separate pastures, to rotate horses .Your horses won't starve on our property :)
We keep the horses out in the pastures when the weather is good. If the weather is bad, we will keep the horses in their stalls.(for stall boarders). We like to rotate the horses through the pastures with other horses to find the right fit so they are not kicked or beat up. We have several different pastures for your horses. Lots of shade trees and water on property plus shelters.
We also have lots of lights, a hot and cold wash rack.
We will blanket your horses when we blanket ours as long as the blankets are in proper functioning condition.
We will hold your horses for the farrier if you align with our schedule
We have room for a couple of bumper pull horse trailers ... first come first serve @ no extra charge.
If you provide wormer, we will worm your horses @ no extra charge.
ALL people that come on the property must sign our waiver.
We are good honest Christian people and we say what we do and do what we say. No drugs, no drinking, no smoking and no dogs can be brought to the property for your safety and the safety of the horses. Security camera's are on the property, you are on camera the minute you set foot on property.
BTW - if you have a friend that wants to ride with you, we have shared lease usage of our horses for $200 per month.-unlimited riding.
Stall board and
Pasture Board $400.00 call for pricing. Please email ... I am not getting full information to contact you. PLEASE LEAVE FULL NAME AND NUMBER TO REACH YOU. Have a Blessed Day. Blessed Ranch Stables can be found on face book.
Call for information and come see our wonderful little ranch.
Specialties
4-H
A Multi Discipline Facility That Is Meticulously Maintained
Affordable Horse Boarding Rates
All Breeds And Disciplines Are Welcome
All Disciplines and Riding Levels Welcome
And Lessons Available.
APHA
AQHA
Arabians
Arena
As Well As Individual Paddocks. Full Car
Barrel Racing
Beautiful
Beginner Lessons On Own Or School Horses.
Blanketing
Board
Boarding
Broodmare And Foal Care
Camps
Church Groups
Daily Handling Of Horses
Daily Individual Turnouts
Daily Pasture Turn-out
Daily Turn Outs
Dressage
English
English Pleasure
Equitation
Eventing
Excellent Care
Full Service Boarding Facility
Geriatric Horse Care
Grass
Grass Fields
Group Activities
Group Instruction
Horse Leases Available
Horse Leasing
Horse Lessons
Horse Summer Day Camp for Kids
Horse Training
Horse Transport Available
Horse/Pony Birthday Parties
Horseback Riding Lessons
Horses for Sale
Hunter Jumper
Hunter Under Saddle
Individualized Care
Jumpers
Jumping
Lay-ups
Layovers, Stopovers
Leasing
Lessons
Lodging And Camping
Natural Horsemanship
Open 7 Days a Week
Outdoor Arena
Over Night Stays
Overnight Stabling
Owner On Premises
Pasture Board
Pastures
Peaceful & Quiet Setting
Peaceful And Relaxing
Personal Attention Given To Each Horse And Human
Personalized Care
Pole Bending
Pony Club
Private . Quiet
Private Riding Lessons
Quality Care
Reining
Riding Clinics
Riding Lessons
Riding Lessons for Adults
Riding Lessons for Children
Riding Trails Available
Round Pen
Safety Courses
Showing Program
Stables
Stall Boarding
Therapeutic Riding Program
Trail Riding
Trailer Parking Available
Trails
Trainer On-site
Wash Rack
Weekly Stays
Western
Western Pleasure
Working Student Program
Young Riders Welcome
Youth