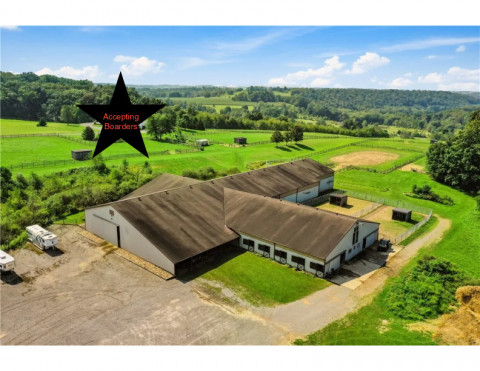 Perfect for the working professional
• Sixteen 11' x 11'6" stalls with sliding doors and blanket bars
• Stalls cleaned twice daily, bedded with small-flake shavings
• Tribute grain fed twice daily (variety available)
• Supplements/medications added as needed
• Alfalfa or 2nd cut orchard grass hay fed twice daily
• Waters filled twice daily and cleaned weekly
• Daily group or individual turnout with shelters
• Blanketing/fly masks on daily, depending on weather
• Farrier, vet, dental, and chiro appointments managed for you
• Lighted 70' x190' indoor arena with fiber footing
• 300' x 150' outdoor arena and round pen
• Secure Keypad-entry tack room with space for tack trunk
• Exercise and training rides available upon request
*All boarders are to stay active in the lesson program and active club members.
$725 per month
(multiple horse discount available)
Field board horses get access to all amenities at Ople Farms. Field board horses have large run-in sheds in the fields for shelter. Field board also includes:
• Tribute grain fed twice daily (variety available)
• Supplements/medications added as needed
• Alfalfa or orchard grass hay fed twice daily
• Water trough checked/filled daily and cleaned weekly
• Blanketing/fly masks on daily, depending on weather
• Farrier, vet, dental, and chiro appointments managed for you
• Lighted 70' x190' indoor arena with fiber footing
• 300' x 150' outdoor arena and round pen
• Keypad-entry tack room with space for tack trunk
• Exercise and training rides available upon request
Specialties
All Disciplines and Riding Levels Welcome
Arena
Beginner Lessons On Own Or School Horses.
Boarding
Daily Individual Turnouts
Daily Pasture Turn-out
Dressage
Education
English
English Pleasure
Equitation
Eventing
Full Service Boarding Facility
Group Activities
Group Instruction
Horse Leases Available
Horse Summer Day Camp for Kids
Horse Training
Horse Transport Available
Horse/Pony Birthday Parties
Horseback Riding Lessons
Horses for Sale
Hunter Jumper
Indoor Riding Arena
Jumping
Layovers, Stopovers
Open 7 Days a Week
Outdoor Arena
Overnight Stabling
Pasture Board
Pastures
Polo
Private Riding Lessons
Riding Clinics
Riding Trails Available
Round Pen
Showing Program
Stables
Stall Boarding
Trail Riding
Weekly Stays
Youth