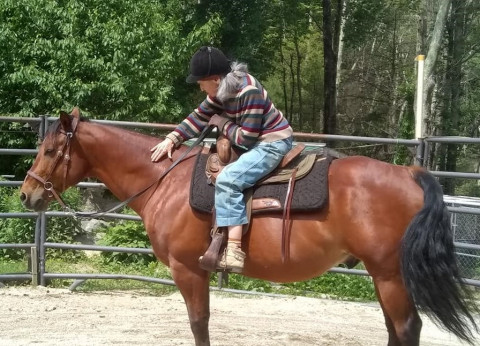 Riding lessons start on the ground first. We make these lessons FUN! $55.00 for a full private hour. I believe you should learn how to communicate effectively before climbing in the saddle. Earning the respect of your horse through groundwork techniques is essential to having clear communication and respect while mounted. My horse's are NOT your typical school horses, they are my personal well trained riding horses. I have miles of trails right out back. Mounted riding lessons are $65.00 hr. beginner or advanced rider you WILL learn safety tips that you were never taught! How many times have you heard "I rode once, the horse took off..... never rode again". That's not going to happen at Bobcat Farm
For beginners, you will not only learn to tack up a horse properly, you'll learn to lead, lunge, and do liberty work. You will develop a partnership with the horse, that you will carry forward to every equine relationship in your future.
Want to get ready to enjoy your time at a dude ranch? Start here, we have miles of trails!
For advanced horse riders/ owners, we'll start at your level and together will develop a entire new set of skills to advance your abilities, or get rid of bad habits you may have acquired. Our first lesson will still start on the ground, then we move on to under saddle. I will teach you counter moves that you can take home to your own horse or a horse you lease. Does your own horse or a horse you have ridden, spook, invade your space? I teach you how to stay safe in the saddle, and on the ground. Learn from a lifelong horsewoman and professional horse trainer. Call today!
This is what a client had to say..." I have been looking for a long time to find a horseback riding facility where I would be able to take lessons on natural trails. Not only did I find that at Bobcat Farm, but also with a very talented and excellent riding instructor named Cathie Hatrick-Anderson. You will feel absolutely safe and yet also learn a tremendous amount about horsemanship. Finally Cathie is also incredibly patient - which is a wonderful bonus. I now gladly travel each week to Bobcat Farm to learn more about horses and to improve my riding as an adult learner. It works! I might repeat myself but this place is absolutely wonderful. Her lessons are filled with useful information and are very reasonably priced. It might sound exaggerated, I have no idea why anybody would go to another place to pay more money and get less riding instructions. This is the real deal. Annette B"