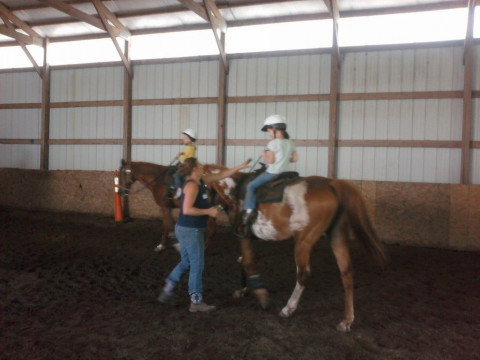 Fall/Winter Leasing available to qualified persons.
***BUY 1 MONTH WORTH OF LESSONS AND ONLY PAY $20/ LESSON.
It is best to call and NOT email as a way of scheduling. This assures you get an appointment or the information that you need.
Lesson packages make EXCELLENT presents. Ask about our horse leasing...also check the website for upcoming events such as; trips to Potato Creek State Park, hang out days, & summer camps. Boy and Girl scouts, need your merit badges? Call for more information!
The Riding Stable is located at 3912 Nimtz Pkwy, in South Bend, IN. A convenient location just minutes (1.9 miles) off of the by-pass and close to Bendix Drive. Riding lessons for the entire family by an instructor of 18+ years, or a quiet trail ride is a great weekend or evening event. An inclusive boarding package with trimmings and worming included. Large box stalls, board fenced turnouts and an indoor arena along with care personalized to your special equine, is what you will find here! Check us out at: http://TheRidingStable.com
Remember...we offer Gift Certificates!!
Specialties
4-H
Adult Riding Lessons
Children's Horse/Pony Birthday Parties
Children's Riding Lessons
Family Friendly Atmosphere
Family-Friendly Rates
Group Lessons
Horse Boarding
Horse Leases
Horse Sales
Hunter Jumper Training
Private Lessons
Trail Riding Lessons
Weekend Lessons
Western Pleasure