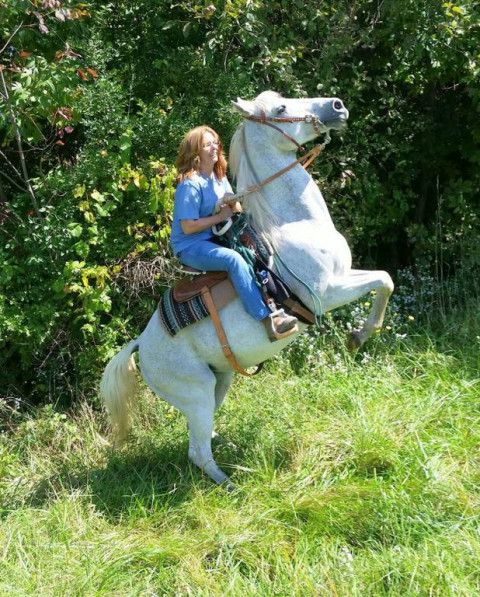 A fun and relaxing place to ride with beautiful, well trained horses!
We have equine professionals with over 49 years of equine experience and, 27 years of medical expereince. Our farm is conveniently located on the SE side of Mishawaka Indiana 46544, just off the US 20 bypass at the Elm Rd exit. We have a large round pen for lessons, beautiful trails, and parks for trail rides. Please check the local weather of Mishawaka, In 46544, before scheduling.
HORSEBACK RIDING LESSONS: $55 per hour.
CURRENT LESSON DISCOUNT: Purchase a 5 hour lesson package for only $225! This is the same price as a trail ride for the entire month of April 2018! This package is used at your leisure. We are open 7 days a week and work with your schedule. We specialize in beginner & intermediate level riding lessons for all ages. For children under 10, we often do shorter 45 min sessions. We also teach students how to groom, saddle, bridle, and care for horses if they request. Ages 2 to 102 welcome!
TRAIL RIDES: $35 for 45 minutes, $45 for an hour, $55 for a 75 minute ride, $65 for 90 minutes. You must be able to stop, turn, and balance in the saddle before you will be allowed on the trails. Weight limit is currently 250lbs. A deposit is required via paypal, credit card or cash to reserve your trail ride, lesson or party. We take 1 to 6 riders at a time on trails with a guide.
PONY PARTIES: $300 plus mileage. You may schedule the party at our farm or at your place, providing you have the room for horses to be led around. We take them to downtown locations, parks or churches. We also do family reunions and company events also! Contact us to discuss the details and obtain an exact quote based on your location. A small deposit is required to reserve the date. We travel up to 2hrs from Mishawaka Indiana 46544. We offer table and chairs for up to 50 guests at an additional cost of $75 for set up. We do decorate the horses and ponies with unicorns available upon request.
WEBSITE:
www.cathyscorral.com
The BEST way to reach us is by TEXTING
PAYPAL email:
LOCATION: 14416 Ireland Rd Mishawaka In 46544. By appointment only
We are open anytime from 9am to 9pm, 7 days a week By appointment
SPECIAL NOTE: When inquiring about our services directly from this site, please provide us with your email or phone number. Without that information, we have no way to respond back. Thank you.
FOLLOW US ON FACEBOOK: https://www.facebook.com/CowgirlCathy
Specialties
Confidence Building For Horse And Rider
"Mom & Me" Classes For 3-6 Yr Olds
32 Inch AMHA AMHR Buckskin Dun Miniature Horse Stallion For Stud
4-H
5 Years & Up
Adult Riding Lessons
Affordable
Affordable Horse & Rider Training
After School Program
And Gentleness In Your Horse From The Ground To The Saddle
AQHA
Balance And Confidence For All Types Of Riders
Balanced Seat
Balancing
Beginner Riding Lessons for Adults
Beginner to Advanced Riders
Beginner to Intermediate Riders
Beginning Riders Welcome
Body Awareness
Body Balance
Breaking
Buy And Sell Horses
centered Riding
Certified Instructor
Children's Horse/Pony Birthday Parties
Children's Riding Lessons
Coaching
CONFIDENCE BUILDER~ Not Just In Your Riding Ability!
Conquer Fears
Discount Packages
Fair Rates
Family Friendly Atmosphere
Family-Friendly Rates
Friendly
FUN.
Gift Certificates Available
Girl Scout
Goal Setting
Grooming
Ground Work
Group Lessons
Guided Trail Rides
Hands On Interactive Training & Lessons
Haul-Ins
Horse
Horse Broker
Horse Care
Horse Health Care Lessons
Horse Lessons
Horse Sales
Horse Shows
Horse Training
Horseback Riding
Horseback Riding Camps
Horseback Riding In The Michiana Area! Horseback Riding In Misha
Horseback Riding Lessons
Horsemanship Skills
Horses
Increase Confidence
Instruction
Instructor Training Program
Intermediate Riders
INTRODUCTION TO HORSES
Learning
Lesson Horses Available
Lessons
Natural Horsemanship Training
One On One Instruction
Overnight Boarding For Transport Companies
Paints
Playday Events
Ponies
Pony Rides
Private Instruction
Private Lessons
Problem Horses
Problem Solving
Professional Instructors
Quality Trail Rides In Michiana Area!
Reasonable Rates
Riders Any Age
Riding Lessons
Sales
Sales Preparation & Representation
Scenic Trail Rides And Pony Parties
Special Events
St Joseph County
Starting Horses
Suited For Every Level Of Rider And Equestrian In Northern India
Therapeutic Riding Program
Timid Riders
Trail
Trail Riding In Mishawaka Indiana. Horseback Riding Lessons
Trail Riding Lessons
Trailer Loading
Trailering
Trails
Training
Traveling Instructor
Weekend Lessons
Well Trained Horses
Western Pleasure
Western Riding Discipline
Working Student Program
Young Riders