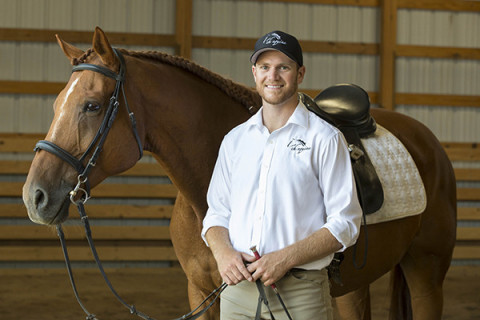 It's Not About Us…It's About You!
Clinician Cody Harrison is here to assist you and your horse through your own individual journey. Regardless of where you currently are in your journey or how far you aspire to go with your equine partner, Cody can help set you up to be successful and show you how to communicate clearly so you and your horse can truly enjoy your partnership.
Each and every horse and rider have their own path to follow in order to reach their goal. When working with Cody through clinics, lessons, training, or our Immersion Program, he will help you find the path that fits you and your horse's needs. Your path will be unlike everyone else. Cody believes that we and our horses are all unique and we should remain as individuals.
Time frames are not important when you learn to enjoy and trust the path you are on rather than trying to rush to complete your goals. It takes time to learn how to communicate with your horse and explain what you are asking, and then give them the time they need to develop and actually learn the exercises. When you take it day by day, month by month you will be surprised at how fast the progress actually comes.
When working with Cody you will learn to truly feel what your horse is doing and how they feel in that moment. How they feel physically, energetically, and emotionally. Cody takes all of these things into consideration for both the horse and its rider.
For more information, please e-mail Carrie at
or visit our website at www.CH-Equine.com
Specialties
Confidence Building For Horse And Rider
Adult Riding Lessons
Advanced Riders
Balance And Confidence For All Types Of Riders
Balanced Seat
Boarding
centered Riding
Classical Dressage
Classical Horsemanship/Balanced Riding
Coaching
CONFIDENCE BUILDER~ Not Just In Your Riding Ability!
Dressage Training
English
English Horseback Riding Lessons.
English Riding Lessons
Family Friendly Atmosphere
Friendly
Gift Certificates Available
Grooming
Ground Work
Hands On Interactive Training & Lessons
Horse Lessons
Horse Training
Horseback Riding Lessons
Improving Horse/rider Relationship
Increase Confidence
Indoor Riding Arena
Intermediate Riders
Lessons
Lunge Lessons
Private Lessons
Problem Horses
Riding Clinics
Riding Lessons
Special Events
Starting Horses
Timid Riders
Trail Riding Lessons
Trailer Loading
Trained With An International Clinician
Traveling Instructor
Weekend Lessons
Western Dressage
Western Riding Discipline
Working Student Program