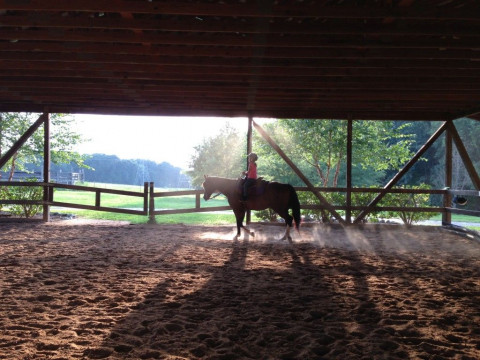 Cristin Kyle is a natural horsemanship trainer who believes in building trust, respect, and confidence in both horses and riders. Teaching how to build a better relationship is the foundation of her training methods. From the ground up through the saddle, she strongly believes this is the basis of safety with horses.
Working with horses and people from any discipline, she believes that your saddle choice should not change the core of your training nor should it affect your relationship with your horse. This is how she came to name her business Stable Relationships.
Cristin believes in continuous learning, from professionals, students, and horses. Each horse has something to contribute, as they are our best teachers. She understands and respects that both you and your horse are individuals and should be treated as such. In her opinion there is no 'cookie-cutter' method for every individual or horses or '30 day miracles'.
Cristin helps riders learn to better read their horses on the ground, from head to tail – there is a lot to be said in their expressions alone. This transfers to saddle work as well, and helps build a more responsive horse. She also teaches riders to feel their subtle movements as often as possible to create a better release point, horses learn from the release of pressure and riders should learn to give to a horse as quickly as possible.
Breaking down the more complicated tasks for you and your horse to bring it back to a place where you both can be successful, are the building blocks for success. Cristin wants you to leave feeling better about yourself, your horse, and both of your abilities combined, whether it is through her training, a clinic or a riding lesson on one of her horses.
Cristin is based in a beautiful horse region, Reidsville, North Carolina with easy access to the Triad and surrounding areas. She is very willing to travel further if that means helping you!
Thank you for your time and consideration. If you would like additional information or have questions, please do not hesitate to reach out to us.
Specialties
Confidence Building For Horse And Rider
Adult Riding Lessons
Advanced Riders
Affordable
And Gentleness In Your Horse From The Ground To The Saddle
Balance And Confidence For All Types Of Riders
Balanced Seat
Balancing
Beginner Riding Lessons for Adults
Beginner to Advanced Riders
Beginner to Intermediate Riders
Beginning Riders Welcome
Children's Riding Lessons
Confidence
CONFIDENCE BUILDER~ Not Just In Your Riding Ability!
Confidence Building
Conquer Fears
English
English Horseback Riding Lessons.
English Riding Lessons
Family Friendly Atmosphere
FUN.
Ground Work
Haul-Ins
Horse
Horse Leases
Horse Lessons
Horse Sales
Horse Training
Horseback Riding
Horseback Riding Lessons
Horses
Indoor Riding Arena
Intermediate Riders
Lesson Horses Available
Lunge Lessons
Natural Horsemanship
Natural Horsemanship Training
Obstacle Training
Obstacles
Private Instruction
Private Lessons
Problem Horses
Reasonable Rates
Reliable Schooling Horses
Respect
Riding Clinics
Riding Lessons
Saddle Fitting
Timid Riders
Trail Riding Lessons
Trailer Loading
Traveling Instructor
Trust
Weekend Lessons
Western Riding Discipline