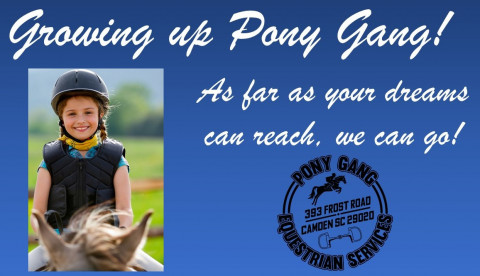 Pony Gang Equestrian Center is a small family run Equestrian facility and located on the east side of Camden, South Carolina on the beautiful 16 acres large Pony Gang Farm. Our Equestrian Center combines horseback riding training (English, Hunter/Jumper and Western) with horsemanship classes. The Horseback riding school is situated in a quiet, pastoral setting; warm and welcoming, so that it simply feels like home. Our primary focus is on teaching, training and learning. Pony Gang Equestrian services is a real special place: for caring, for sharing, for teaching and learning. Our team strives to create an intimate, down-to-earth atmosphere where personal attention is our hallmark and riders of all ages, you and adults alike, always feel at home. Our safe and well-schooled lessons horses are perfect for the inexperienced riders just starting out, or the active enthusiasts striving to attain the next level in their riding.
Why is Horseback riding a great alternative to other sports?
Horses teach your child/children:
- Accountability
- Compassion
- Sportsmanship
- Dependability
- Bravery
- Selflessness
The American Equestrian Alliance states that horseback riding can be helpful for children dealing with physical challenges and can help improve balance, muscle strength and flexibility.
Horseback riding can also help a kid to gain confidence and a sense of responsibility through learning horse care and upkeep, while enjoying the sense of freedom riding a horse will bring.
Please note! We are not always receiving all your contact information or Message through this page. If you have questions, would like to set up a visit or schedule a lesson contact us directly at
Pony Gang Equestrian Service
393 Frost road
Camden SC 29020
Phone
www.ponygang-farm.com
Specialties
5 Years & Up
After School Program
Balance And Confidence For All Types Of Riders
Balanced Seat
Beginner Riding Lessons for Adults
Beginner to Intermediate Riders
Beginning Riders Welcome
Children's Horse/Pony Birthday Parties
Children's Riding Lessons
CONFIDENCE BUILDER~ Not Just In Your Riding Ability!
English
English Equitation
English Horseback Riding Lessons.
English Instruction
Homeschool Programs
Horseback Riding
Horseback Riding Camps
Horses
Hunter Jumper Equitation
Hunter Jumper Training
Riding Lessons
Working Student Program