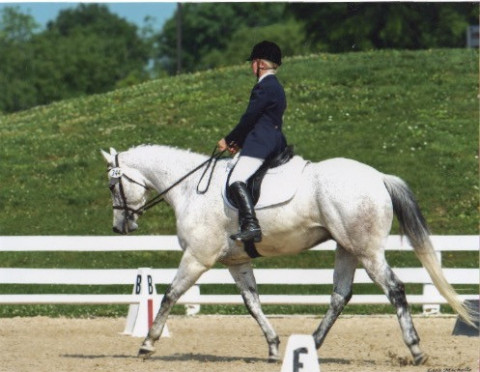 Not many people can say that they learned from the best Professional Horse Woman in the nation. But I can! I spent 10+ years in her program. Her name is LYNN PALM No other clinician today can begin to match Lynn Palm's proven performance record as an all-around trainer, showman, exhibitor and entrepreneur with a first-class reputation. Lynn's accomplishments include:
34 AQHA World and Reserve World Championships
7 Western Dressage Association of America World Championships
4 "Superhorse" Championships (see more at lynnpalm.com)
I specialize in Private lessons, starting with lunge line lessons to improve riders balance, strength, coordination. For a beginner, this is the best way to start, because on a lunge line, the trainer controls the speed and direction of the horse. So that the rider can concentrate on the correct riding position instead of worrying about how to turn or stop their horse. It is the safest position for a beginner rider. It builds confidence early so the rider progresses to the next level quickly. This is how many of the top European Dressage riders start!
The "Elements of my Riding Instruction" include establishing harmony with your horse. I teach the rider so that they can learn and work with their own horse. I will teach you the "hows and whys" of aids communication, transitions, bending and lateral movement. Not"secret" training, that many trainers do, where you do not know how to ride your own horse! I like to establish a relationship with my students using positive reinforcement and interactive lessons. It is not "I teach, you listen". That is not productive learning.
So... it will not be a lesson where someone just says'' Heels Down". Yes, heels down is a part of a correct rider's position but proper alignment is so much more than that. My student will not just be "Riding on the Rail" either. Through the use of figures, cones, poles, obstacles or controlled trail riding, my students will learn to control their horse's body position and gait. This in turn will improve accuracy for a dressage test, horsemanship or equitation pattern or jumping course. Creating a "Confident, Effective Rider" as well as a "Thinking and Feeling" Rider is the basis of my program. You will learn to feel your horse as a partner, not just sitting on top, being a passenger.
It is also a goal of my program that a student does not just become a "good rider" but also a good "horsemen". The care of their horse is my utmost concern. So I will also be educating the student on Horse Care, Nutrition, Horse Health, Horse Anatomy, Stable Management, etc.
Thunder Road Stables is located 1 hour south of Lexington, KY and 2 hours South east of Louisville, KY. 22 miles south of Danville, KY. My riding instruction fee is $60 for an 1 1/2 lesson. I would love to talk with you about your passion for riding horses, call or text me at . or email
Specialties
Confidence Building For Horse And Rider
"Mom & Me" Classes For 3-6 Yr Olds
4-H
5 Years & Up
Adult Riding Lessons
Affordable
All Ages "Happy Horses Is My Goal"
All Disciplines
Balance And Confidence For All Types Of Riders
Balanced Seat
Barrel Racing Lessons
Beginner Riding Lessons for Adults
Beginner to Advanced Riders
Beginning Riders Welcome
Breaking
Certified Instructor
Children's Horse/Pony Birthday Parties
Children's Riding Lessons
Classical Dressage
Coaching
Competing
CONFIDENCE BUILDER~ Not Just In Your Riding Ability!
Conquer Fears
Dressage Schooling Shows
Dressage Training
English
English Horseback Riding Lessons.
English Riding Lessons
Equitation
Equitation All Seats
Family Friendly Atmosphere
Family-Friendly Rates
Gift Certificates Available
Girl Scout
Ground Work
Group Lessons
Gymkhana
Haul-Ins
Horse Boarding
Horse Leases
Horse Lessons
Horse Shows
Horse Training
Horseback Riding
Horseback Riding Lessons
Horsemanship Skills
Horses
Hunt Seat
Hunter Jumper Training
Hunters
Intermediate Riders
Jumper Lessons
Leasing
Lesson Horses Available
Lunge Lessons
Natural Horsemanship Training
Pole Bending
Private Lessons
Problem Horses
Reasonable Rates
Reliable Schooling Horses
Riding Lessons
Saddle Fitting
Sales Preparation & Representation
Showing
Starting Horses
Timid Riders
Trail Riding Lessons
Trailer Loading
Traveling Instructor
Weekend Lessons
Western Games
Western Pleasure
Western Riding Discipline
Young Riders