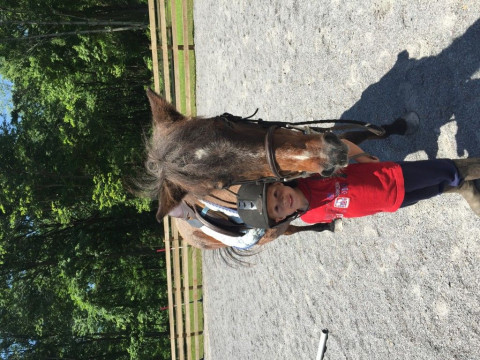 For years, we have created a fun, exciting and nurturing environment for children of all ages. A place where they can experience life on a farm.
Our farm is located in the rural setting of Hunterdon County New Jersey. We have 10 acres of open land and woods where your kids can experience farm life. At Woodhedge Farm your children will learn horse safety, riding, barn management in addition to arts, crafts and swimming.
A typical lesson begins with grooming the horses and saddling up. Once we are done riding we get to give the horses a bath, and treats before turning them out for some rest and relaxation. We offer lessons to kids of all ages, and all skill level!
A typical camp day consists of morning riding, followed by some barn chores, lunch, crafts, and swimming! Your children will learn how to clean stalls, set up food, clean tack and shovel lots of manure! Before the sun goes down our campers get a second chance to ride either on our trails or in our arena.
We hope to be able to have your children share in the farm life at WoodhedgeFarm
We also offer boarding, and training. We offer 2 year old starting along with training problem horses.
Like us on Facebook at Woodhedge Farm