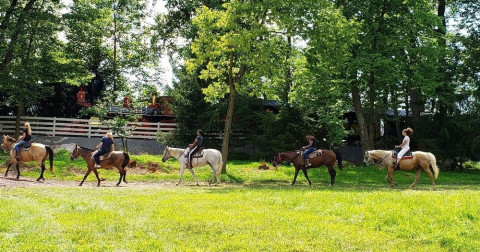 Enjoy a relaxing guided horseback ride through one of Lancaster County's hidden treasures—the Ironstone Ranch at Stone Gables Estate.
You and your horse will travel through shady forest trails and trek across open pastures. You will pass through the iconic Star Barn Village, ride over the original railroad bed where Abraham Lincoln's funeral train and the Liberty Bell once traversed, and pass the fully restored Herr's Mill Covered Bridge on your peaceful journey over 275 acres of forests & fields.
Available Times
Tuesday through Saturday
10:00 am, 11:30 am, 2:00 pm, 3:30 pm
This experience typically takes 60 min and includes a safety briefing and mounting.
Riders must be 8 years or older and weigh less than 225lbs.