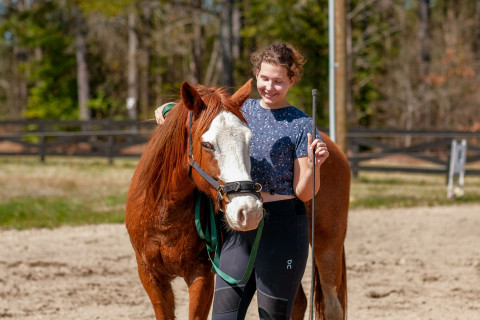 Offering private beginner riding lessons to children and adults in the English discipline.
Lessons focus on flatwork to develop and fine tune seat/ leg aids. Students have the option to learn jumping, ground driving and dressage once they have developed a strong foundation in horsemanship and aids.
I believe in giving students clear instructions, just as the horse would like from their rider. Students will begin on a lunge line to develop feeling and connection with the horse. Once the student shows they are able to control the horse with the use of their body versus their hands, they will graduate to riding off the lunge line. Clear cues are difficult to implement when you are expected to juggle body position, weight balancing, correct aids, direction and speed before knowing what you are doing. When solid foundations are built, riders will excel with advancements with ease!
Additionally, students may choose to spend partial or whole lessons to learn about horse care, anatomy and grooming/ show grooming.
Lessons are $50 per lesson. Please feel free to message me regarding questions and more lesson information!
Please contact me at
Specialties
Balanced Seat
Beginner Riding Lessons
Beginner Riding Lessons for Adults
Beginning Riders Welcome
Children's Riding Lessons
Classical Dressage
Clipping Instruction
Family Friendly Atmosphere
Ground Driving Lessons
Hunter Jumper Training
Lesson Horses Available
Lunge Lessons
Private Lessons
Reasonable Rates
Riding Lessons
Trail Riding Lessons
Weekend Lessons
Young Riders