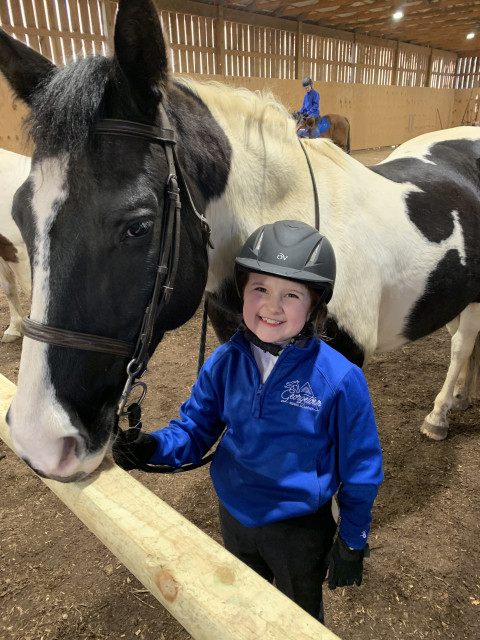 Welcome to Georgetown Riding Academy, your premier destination for exceptional horseback riding lessons and unforgettable equestrian experiences in Georgetown, KY. Nestled in the heart of our vibrant community, we are dedicated to providing a safe, educational, and enjoyable environment for riders of all ages and skill levels.
At Georgetown Riding Academy, we believe in the transformative power of horses and strive to create a nurturing atmosphere where both riders and horses can thrive. Our experienced and certified instructors are passionate about equestrianism and are committed to helping you develop strong horsemanship skills while building a lasting connection with these majestic animals.
Whether you're a beginner, intermediate, or advanced rider, our personalized lessons cater to your individual goals and abilities. From mastering the basics of horse care and riding techniques to refining your skills in various disciplines such as dressage, show jumping, or trail riding, our curriculum is designed to support your progress and ensure a well-rounded equestrian education.
Safety is our top priority at Georgetown Riding Academy. We maintain a meticulously maintained facility equipped with state-of-the-art amenities, including spacious arenas, well-trained horses, and top-quality riding equipment. Our emphasis on safety protocols and attentive supervision ensures that you can focus on learning and enjoying your horseback riding experience with confidence.
Beyond lessons, we offer a range of additional services and experiences to deepen your connection with horses. Join us for horse leasing programs, horse camps, or participate in our special events and clinics led by industry professionals. We are committed to fostering a sense of community among our riders and organizing engaging activities that promote camaraderie and a shared passion for horses.
Discover the joy of horseback riding and embark on an incredible journey of growth, self-discovery, and unforgettable moments at Georgetown Riding Academy. Join our welcoming community and experience the beauty and grace of these magnificent animals firsthand.
Contact us today to schedule your first lesson or to inquire about our programs. We can't wait to introduce you to the world of horseback riding and help you unlock your full equestrian potential.
Specialties
Confidence Building For Horse And Rider
Balanced Seat
Beginner to Advanced Riders
Beginning Riders Welcome
Children's Horse/Pony Birthday Parties
Children's Riding Lessons
Equitation All Seats
Family Friendly Atmosphere
Family-Friendly Rates
Gift Certificates Available
Ground Work
Group Lessons
Horse Leases
Horseback Riding Camps
Intermediate Riders
Lesson Horses Available
Lunge Lessons
Reasonable Rates
Riding Lessons
Showing
Weekend Lessons
Working Student Program
Young Riders