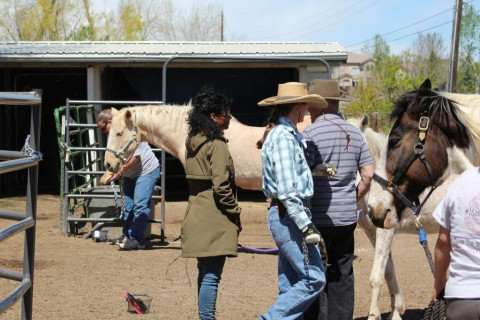 Pam Thode of Meadowlark's Song is hosting a program FREE to Veterans sponsored by The Sunny Horse Foundation. The name of the program is VETERANS EQUINE EXPERIENCE. This program is designed to bring Veterans and horses together in purpose-driven ground work exercises. Classes are held weekly on Wednesday at 10:30 AM to 12:30 PM. Our lead instructor has over 3 years designing and working with Veterans in horsemanship classes. We can bring horse energy into your life! You do not need a horse or even want to ride. Being with horses is a wonderful energy lift. Pam has been bringing horses and people together professionally for over 16 years. Pam is certified with the Professional Association of Therapeutic Horsemanship. If you long to be with horses and never gave yourself permission to do so, now is the time. Come see Pam.
Connecting Horse and Rider through energy work. Pam works with all ages who want to fulfill to their love of horses. Pam is also a certified Horse Trainer. She trains the horse, along with the owner. She focuses on the developement of a fine riding and therapy equine. Natural Horsemanship and Energy work to bring the horse and owner into a solid bond. Pam has 5 therapy horses or she will work with you and your horse at your location.Two of these horses ate also lesson/riding horses.
Growing up in Boulder and riding her horse in the country, the lilting song of the meadowlark inspired her to always keep horses in her heart. Bring your heart and experience some soul work equine style.
Specialties
Confidence Building For Horse And Rider
5 Years & Up
Adult Riding Lessons
Balance And Confidence For All Types Of Riders
Balanced Seat
Beginner Riding Lessons for Adults
Beginner to Advanced Riders
Beginning Riders Welcome
Certified Instructor
Children's Riding Lessons
Coaching
CONFIDENCE BUILDER~ Not Just In Your Riding Ability!
Ground Work
Horse Training
Horseback Riding
Horsemanship Skills
Lesson Horses Available
Lunge Lessons
Natural Horsemanship Training
Private Lessons
Problem Horses
Reasonable Rates
Riding Clinics
Riding Lessons
Starting Horses
Timid Riders
Traveling Instructor
Veteran Program
Weekend Lessons
Western Pleasure
Young Riders